Bodybuilding Cooking Made Tasty and Delicious
I remember when I first got into bodybuilding I would force feed myself bland chicken breasts and broccoli.  I would actually bring it in a sack bag to my high school lunch room and proudly display my strict eating habits in front of my friends whom thought I was crazy.
Fast forward a few years, and I've since discovered tons of awesome recipes that not only are great for packing on slabs of muscle, but are healthy and tasty too.  I even created my youtube channel to show off some of my culinary creations.  But, finding new recipes is always a bit of a challenge.  Not because recipes are hard to come by, but because bodybuilder friendly recipes are hard to come by.
That's where Dave Ruel has come in and saved the day.  He's put together what I consider to be the single best "all-in-one" bodybuilding cooking guide for guys like myself who like taste, affordability, and most of all convenience.   Since most of the recipes are made stupid simple for the average guy, you won't find you have to be a great chef to start making great tasting high protein muscle gain meals.
Here is an awesome meatloaf recipe courtesy of Dave to kickstart your bodybuilding chef skills.
Bodybuilding Cookbook Recipe Dinner Idea – Muscle Meat Loaf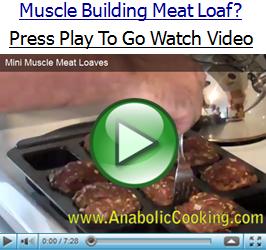 Ingredients
– 2 lbs of ground Turkey
– 1 teaspoon of olive oil
– 1 diced Onion
– 1 teaspoon of Garlic(optional)
– 1/3 cup Dried Tomatoes
– 1 cup of Whole Wheat Bread Crumbs
– 1 Whole Eggs
– 1/2 cup of Parsley
– 1/4 cup of Low Fat Parmesan
– 1/4 cup Skim Milk
– Salt and Pepper
– 1 teaspoon of Oregano
Directions
1. Cook the Onion with Olive Oil separatly
2. Mix everything together in a big bowl, add the cooked oignons
3. Put the mix in a big pan
4. Bake at 375-400 F for about 30mins
Nutritional Facts (Per Serving)
Calories: 393
Protein: 46g
Carbohydrates: 14g
Fat: 17g
Purchase The "Anabolic Cooking" Cookbook
Check out the Anabolic Cookbook here for over 200 more muscle building meals!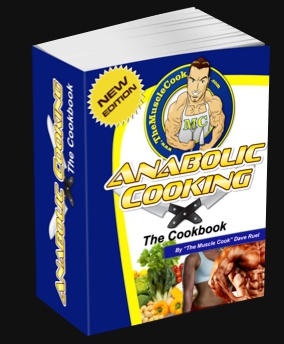 This cookbook will not only give you just about every breakfast, lunch, dinner, and snack idea you could ever need for bodybuilding, but it's also filled with nutritional tips and tricks to maximize your results.  Dave is pretty jacked and knows a thing or two about healthy eating for building muscle and burning fat.  The money saved from not having to eat prepackaged meals or fast food is worth the price alone.
Get More Free Bodybuilding Recipe Ideas
Want to try out some more great muscle gain recipes for free?  Dave Ruel is offering this free guide so you can get even more recipes to build mass. Right click here and save to your computer.
By: Derek Doepker