3 Fast & Tasty Muscle Building Recipes
So you want to build more muscle and are getting tired of chicken breasts and brown rice?  Don't worry.  I've got you covered with 3 super quick and easy recipes that are not only going to help pack on slabs of muscle, but they taste absolutely frickin' amazing.  They are also fairly "idiot-proof," so even if you don't know much about cooking, you'll find it pretty hard to screw these up.
Recipe #1 – Bodybuilder's Slow Cooker Pineapple Chili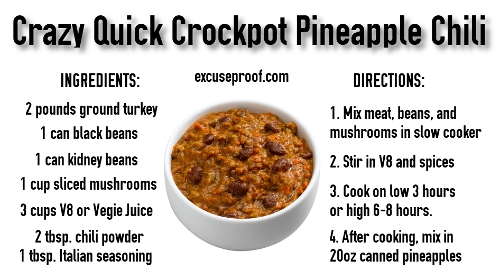 Directions:
Why It's Awesome:
A quick and easy chili recipe is essential for any bodybuilder.  Whereas many chili recipes may call for 15-20  minutes of prep time, this can be made in around 5 minutes.  I usually just toss the ingredients in a slow cooker before bed, let it cook while I sleep, and then wake up to several days worth of chili.
Bodybuilders need tons of calories, and there's no easier way to get those calories than by tossing everything together in a pot and then cooking a delicious meal that can be taken on the go and warmed up whenever you're ready.  If you want to add even more calories, you can add some more meat for additional protein and fat.  You can also add some organic red potatoes, additional rice (add water in 1:2 ratio of rice to water), and some more beans.
Recipe #2 – Pumpkin Pie Protein Shake
Ingredients:
1/2 cup Unsweetened Coconut Milk (Available in ethnic/Asian food section of grocery stores)
1 cup Canned Pumpkin Puree (Available in baking section of grocery stores)
1-2 scoops protein powder with either 6-12 oz of water, milk, or almond milk
2 tablespoons of honey and/or blackstrap molasses (or 1 tablespoon of powdered stevia)
1 teaspoon vanilla extract
2 teaspoons pumpkin pie spice
1 oz chopped walnuts (optional)
Directions:
Blend all ingredients in a blender.  You may use either honey, blackstrap molasses, or a 50/50 mixture of each for a total of 2 tablespoons or desired sweetness.
Why It's Awesome:
Who doesn't love pumpkin pie?  And what's the best part of a pumpkin pie?  The filling!  You'll swear you're eating straight pumpkin pie filling with this quick and easy pumpkin pie protein shake.
While a protein shakes' convenience is a life saver for people in a hurry, but the problem is they're mostly treated as a supplement rather than a meal in itself.  We can add a few things to make an ordinary protein shake an extraordinary muscle building meal.
Pumpkin is one of the most nutritionally rich foods and is very high in fiber.  So by adding pumpkin to the protein shake, it will be much more filling and give you a lot more nutritional than just protein powder and water.
The coconut milk is a great source of healthy fat including medium chain triglycerides which actually boosts the metabolism and keep you burning fat.  Including coconut fats in your diet is a great way to ensure you're building muscle without adding too much body fat.
Blackstrap molasses provides tons of minerals including chromium which aids in blood sugar balance.  Proper blood sugar regulation is essential for adding muscle and preventing fat gain.  Studies have shown cinnamon also aids in promoting blood sugar which resulted in more muscle and less fat.
Want to kick it up with even more calories?  Trying adding some applesauce and oats for additional carbohydrates.
Recipe #3 – Homemade Protein Fudge Bars (Non-Cook)
Ingredients:
8 scoops chocolate protein powder
1 cup oatmeal
1/3 cup natural peanut butter
3 tbsp honey
1/2 cup 1% milk
3 tbsp crushed peanuts
Directions:
1. Mix together the protein powder, oatmeal, peanut butter, honey and milk.
2. Form into 5 bars and then roll in the crushed peanuts to finish.
3. Place in the fridge for about 30-45 mins or until solid
See video below to watch it being made:

Why It's Awesome:
This last recipe comes from Dave Ruel, author of the Anabolic Cooking Recipe Book.
Most store bought protein bars are crap.  Some low quality protein, a ton of sugar, and the one's that actually taste good are usually pretty horrible in terms of tons of added crap you probably don't need to be putting into your body.  But this recipe is quick, easy, and affordable.
Dave's got a ton of great recipes specifically for bodybuilders.  He's compiled them all in both his Anabolic Cooking product which you can check out here:
Want More Free Bodybuilding Recipes?
Check out Dave Ruel's 10 Most Anabolicious Recipes PDF – Right Click Here and Save To Computer
By: Derek Doepker